Uncover Your Personal Aesthetic with an Interior Design Style Quiz
Discover your preferred style with Superdwell's interior design style quiz. Figuring out your personal style is a key step towards creating a home that truly resonates with you. But, how well do you really know your interior design preferences? Do you gravitate towards the clean, uncluttered aesthetics of modern minimalism? Perhaps, the warmth and charm of a rustic farmhouse capture your heart? Or, do you find yourself drawn to the eclectic, free-spirited appeal of bohemian chic? 
With Superdwell's interior design quiz, you can delve into your aesthetic preferences and embark on an exciting journey towards a personalized and stylish home. Our quizzes allow you to uncover the nuances of your style, helping you to create spaces that aren't just beautiful, but also a perfect reflection of you. Unleash your design potential with Superdwell, and let us guide you towards a home that's truly yours.
1. Discover your Interior Design Preferences
3. Browse Inspiring Projects and Designer Portfolios
4. Embark on Your Personalized Design Journey
Discover Your Interior Design Preferences
Kickstart your Superdwell journey with our informative interior design quiz, strategically designed to recognize and understand your unique tastes and preferences. By presenting you with an assortment of room designs, we not only aim to inspire you but also use your preferences to define your design style. This process plays a crucial role in aligning you with compatible designers who resonate with your style choices and room selections.
Once you have selected a designer, a more comprehensive design style quiz awaits. This in-depth inquiry ventures into specifics, such as your preferred color palettes, furniture styles, and overall aesthetics. It's all about discerning 'what's my interior design style', the question at the heart of any successful interior design project.

This tailored approach enables Superdwell to pair you with a designer who can truly bring your vision to life. So, whether you gravitate towards the soothing minimalist lines or the vibrant flair of eclectic design, our interior design quiz and style selection process ensure that every detail of your space reflects your individual style and preferences. Start your design journey with Superdwell today, and discover the perfect blend of functionality, beauty, and personalized design.
A Reflection of Your Taste
Our home decor style quiz doesn't just focus on large pieces of furniture or overall themes, it delves deeper into your personal taste, looking at your preferences for smaller decor items. This ensures that every element in your room, from the grandest piece of furniture to the smallest ornamental detail, truly reflects your personal style.
Browse Inspiring Projects and Designer Portfolios
Delve into the vibrant world of interior design with Superdwell's comprehensive interior design projects page. This rich collection of completed house designs serves as a remarkable source of inspiration, as well as an opportunity to further refine your personal taste. As you explore the curated spaces crafted by our expert home designers, you gain deeper insights into what aesthetics genuinely speak to your personal style, thus optimizing your interior design quiz results.
Venture further into our designers page, a showcase of each designer's unique flair and specialties. Their individual portfolios provide a detailed look into their design approach and proficiency. By immersing yourself in their past projects, you can identify which aesthetics align with your preferences and, in doing so, enhance your ability to answer the critical question, 'what's my interior design style?'
Superdwell is committed to creating spaces that capture your essence, and browsing our projects and designers pages are crucial steps in this personalized design journey. Let these pages guide you towards your ideal aesthetic as you embark on your Superdwell journey to create a home that truly reflects your individual style.
Embark on Your Personalized Design Journey
Whether you're asking yourself "what's my interior design style?" or are just looking to refine your existing aesthetic, Superdwell's design style quiz offers an insightful way to understand your preferences better. By the end, you'll be equipped with a better understanding of your style and ready to embark on your personalized interior design journey.
Your personal style is ever-evolving, and Superdwell's quiz is an insightful tool to help you navigate your interior design journey. This quiz will guide you towards a home that truly echoes your personality. So why wait? Start your journey of self-discovery and design today with our interior design quiz and unlock the potential of your personal style.
Here are some other articles you might like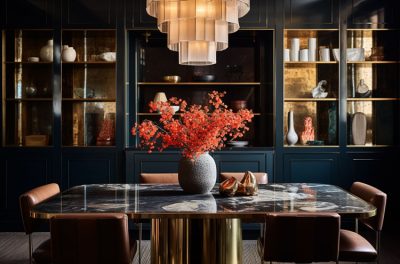 The Trendiest Room Designs in 2024 – According to AI
Tuesday, 22 August 2023
Each year brings new interior design trends that change the way we style our homes. As... Read More