Top 10 Bedroom Transformations with Superdwell's Bedroom Planner
Unlock the potential of your bedroom space with Superdwell's advanced bedroom planner. By showcasing the top 10 bedroom transformations, Superdwell illustrates how our innovative bedroom design tool streamlines the journey to your dream bedroom. Packed with the most recent bedroom trends and creative ideas, the tool ensures a truly personalized design process.
10. Art Deco Delight
Superdwell's bedroom design tool employs cutting-edge AI technology to understand your individual style and requirements. Whether your aesthetic leans toward the minimalist charm of a modern space or the inviting warmth of a rustic country retreat, our online design tool accommodates it all. Dive into the world of personalized interior design, exploring myriad bedroom ideas and styles, and let Superdwell help you create a bedroom that truly reflects your taste and needs.
Now, let's explore 10 of the best bedrooms created with Superdwell's bedroom planner:
1. Modern Minimalist Marvel
Immerse yourself in a masterful display of simplicity and sophistication with this modern minimalist design. Every element in this bedroom underscores the beauty of restraint and prioritizes functionality. The design aesthetic is centered around a muted, neutral color palette and employs sleek, streamlined lines to create a serene and calming environment. This minimalist bedroom, champions the uncluttered and the understated, reinforcing the adage that 'less is indeed more.' The result is a tranquil and harmonious retreat that evokes a sense of calm.
2. Rustic Country Retreat
Welcome to a bedroom that captures the essence of rustic charm and the serenity of the countryside. This Superdwell designed space takes a leaf from nature's book, using organic materials and earthy hues to craft an inviting and intimate atmosphere. The design leans into the nostalgia of rural life, weaving together elements like vintage pieces and rustic textures. The result is a bedroom that echoes the peace and warmth of a country retreat, providing a sanctuary of comfort and tranquility. Embrace the charm of rustic country design and let it transport you to a cozy oasis, right in your own home.
3. Eclectic Bohemian Bedroom
Drenched in creativity, this design brings together the playful spirit of the Bohemian aesthetic. Showcasing a stunning array of vibrant hues, diverse textures, and an eclectic mix of patterns, this space is all about personal expression and artistic freedom. The design weaves a tapestry of layered textiles, collected treasures, and statement pieces, each adding their unique charm. Together, these elements create a dynamic visual interest and depth that defines this bohemian bedroom. Embrace the energy of this design, let it inspire your individuality, and transform your bedroom into a curated canvas of your personality.
4. Scandinavian Serenity
Embodying the principles of functional design and effortless aesthetics, this bedroom manifests Scandinavian tranquility at its finest. Built on the foundation of minimalism, this design leverages a subdued, monochromatic color scheme and carefully selected natural materials. There is an ample infusion of natural light in this bedroom, enhancing the sense of spaciousness and tranquility. This marriage of simplicity and function orchestrates a serene atmosphere, effortlessly blending comfort and style to establish a bedroom that radiates balance and calm. This is Scandinavian design done right, providing a soothing retreat from the daily hustle and bustle.
5. Mid-Century Modern Comfort
Perfectly encapsulating the mid-century ethos, this design is an elegant fusion of organic and geometric forms. This space marries clean, modern lines with classical materials, epitomizing the appeal of the mid-century modern aesthetic. Key elements of this style include furniture featuring distinctive tapered legs, engaging graphic patterns, and a strategic splash of vibrant hues. This design style creates a sense of comfort without compromising on style, resulting in a timeless bedroom that effortlessly blends the past with the present.
6. Traditional Elegance
This design emanates grace and charm through the incorporation of classic details, exquisite furniture, and opulent color palettes. The essence of the style is captured in this bedroom, resulting in a space that is as refined and formal as it is warm and welcoming. By encapsulating the elegance of bygone eras, this traditionally inspired bedroom offers a timeless retreat from the modern world, epitomizing the balance between comfort and sophistication.
7. Southwestern Oasis
Infused with warmth and character, this design embraces the charm of the Southwest. It marries earthy hues, rugged textures, and native patterns to encapsulate the spirit of desert landscapes. Handmade items, terracotta elements, and rustic furniture are intrinsic to this style, cultivating a sense of comfort and authenticity. The color scheme mirrors the natural surroundings, employing warm, sun-baked tones to create a space that is both inviting and serene. Perfect for those who appreciate the natural beauty and cultural richness of the Southwest, this design style forges a bedroom that's not just a restful retreat, but a homage to this uniquely inspiring region.
8. Industrial Loft Bedroom
An embodiment of raw aesthetics, this design thrives on the unrefined beauty of materials like wood and metal, paired harmoniously with a neutral color scheme. It creates an ambience reminiscent of a loft in the heart of the city, with elements such as exposed brickwork and steel beams playing crucial roles. The result is a bedroom space that exudes an intriguingly rugged yet invitingly chic vibe, true to the tenets of industrial style design.
9. Shabby Chic Sanctuary
This style is steeped in vintage charm, painting a beautiful picture with a soft pastel color palette. As an essential part of the design, distressed furniture stands as a testament to beauty that lies in imperfection, offering an appealing contrast against the abundance of fabric. The shabby chic style gently whispers of a feminine and romantic aesthetic, reminiscent of a serene, cottage-like setting. It's not just a bedroom; it's an intimate haven that invites you to relax, unwind, and revel in the timeless elegance of its comforting ambience.
10. Art Deco Delight
This design style is famed for its bold expression and decadence. It makes a statement with striking geometric patterns that evoke the free-spirited era of the 1920s. To amplify its distinct appeal, the design employs a palette of high contrast colors that bring vibrancy and depth. But the opulence doesn't stop there. Luxury is woven into the very fabric of this style, featuring in the use of sumptuous materials that add a touch of sparkle and sophistication. This Art Deco bedroom is ideal for those who enjoy a sense of glamour and delight in intricate, rich details and glitzy finishes.
The ten exquisite transformations presented here exemplify the power and versatility of Superdwell's bedroom design tool. Consider it your comprehensive platform for crafting the bedroom of your dreams. Whether you're giving your current space a fresh look or designing a new one from the ground up, Superdwell brings you a wealth of innovative bedroom trends and customized ideas. This seamless process simplifies the creation of a space that resonates with your personality and feels genuinely like home. Experience the joy of personalized design and let Superdwell's bedroom planner help you create your ideal sanctuary.
Here are some other articles you might like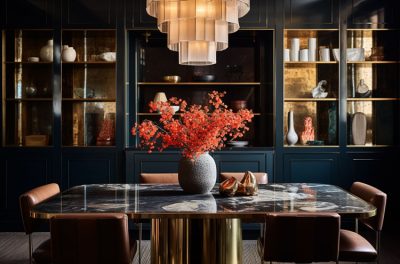 The Trendiest Room Designs in 2024 – According to AI
Tuesday, 22 August 2023
Each year brings new interior design trends that change the way we style our homes. As... Read More