The Trendiest Room Designs in 2024 – According to AI
Each year brings new interior design trends that change the way we style our homes. As 2024 approaches, everyone's buzzing about what's next in home decor. So, why not get a sneak peek? In this article, we'll offer a room-by-room breakdown of what to expect for next year's hottest looks. Whether it's a serene bedroom or a cutting-edge kitchen, we'll guide you through designs that aren't just passing fads but are indicators of where home design is heading.
Ready for a glimpse into the future of interior design? Dive in!
1. Green Haven: Biophilic Bedroom
2. Minimalist Meets Maximalist Bedroom
3. Retro-Contemporary Living Room
7. Bold Kitchen
1. Green Haven: Biophilic Bedroom
As we kick off our exploration of 2024's trendiest room designs, the bedroom emerges as a sanctuary not just for rest but for reconnection—with nature, to be precise!
Gone are the days of lifeless, cold spaces. The modern bedroom, according to AI predictions, will be draped in nature's embrace. Picture this: walls that breathe life through plant motifs, beds nestled amidst indoor greens, and floorings mimicking the patterns of serene forests. Natural light, a key player in this design strategy, dapples in through wide windows, casting shadows of moving leaves on the walls.
While the essence of biophilic design lies in integrating natural elements, it's not just about the visuals. The textures, the scents—think wood, fresh foliage, and earthy tones—all culminate to transport you to a peaceful woodland every time you step in. This bedroom trend reaffirms our innate bond with nature and the need to integrate it into our daily lives, even in urban settings.
In 2024, with the biophilic trend, bedrooms won't just be a space to sleep, but an experience that rejuvenates the soul.
2. Minimalist Meets Maximalist Bedroom
As we delve deeper into 2024's design insights, here comes a bedroom trend that's both calming and captivating.
At its core, the room is a minimalist's dream. Imagine a serene sanctuary marked by streamlined furniture, clear surfaces, and a soft, neutral color canvas. This uncluttered space offers a sense of breathing room, setting the stage for relaxation and clarity.
Yet, there's more to this room than just simplicity. Amid the calm, a few bold and colorful pieces pop out, adding a fun twist. Think lively patterns on pillows, cool wall art, or a funky table. These touches make the room feel lively and give it a personal touch.
This 2024 bedroom trend is all about balance—melding the quiet with the loud, the simple with the ornate. It promises a space where tranquility coexists with character, and where our homes can be both a restful retreat and a reflection of our vibrant personalities.
3. Retro-Contemporary Living Room
Stepping into this living room feels like a delightful blend of yesteryears' charm and today's modern flair, in line with the anticipated design trends of 2024.
The essence of this living room lies in harmoniously blending history with innovation. At its foundation, the space embraces elements reminiscent of vintage charm. Visualize velvet-upholstered armchairs, intricately carved wooden coffee tables, and Persian rugs rich with history. These features offer a sense of nostalgia, harking back to an era where every piece had a story to narrate.
Yet, the design story doesn't pause at vintage charm. Amidst these classic elements are striking modern additions: think sharp metal lighting fixtures, streamlined sofas, and evocative abstract art. The inclusion of contemporary materials, such as clear glass or polished steel, ensures a balanced aesthetic, preventing the room from feeling overly antiquated.
This synthesis of the traditional and the contemporary crafts a living space that feels both timeless and forward-thinking. It pays homage to the past's elegance while seamlessly integrating current design sentiments, making it a perfect choice for those seeking a living room that captures the best of both epochs.
4. Textured Living Room
Introducing the fourth room trend: the textured living room. A space where touch and sight merge to create an ambiance of sheer luxury and warmth.
Here, design is more than visual; it's an experience that tantalizes every sense. Picture lounging on plush sofas with fabrics that invite your touch, each texture narrating a unique story.
Rounded ottomans and coffee tables, without harsh edges, stand as more than functional pieces — they're emblematic of the room's embracing nature.
But it's not just about touch. The room's design ethos is complemented by soft curves. Be it in the form of rounded shelves, drapes adorned with harmonious patterns, or spherical decor, there's a commitment to breaking the monotony of straight lines. These organic shapes, alongside the varied textures, breathe life and fluidity into the space.
5. Colorful Mosaic Bathroom
2024 has ushered in an era where the bathroom isn't just a utilitarian space but an artful retreat.
Step into a bathroom where every wall becomes a visual journey. Statement tiles, drenched in bold colors, set the tone. No longer mere backdrop elements, these tiles stand front and center, drawing the eye and igniting the imagination. Picture yourself surrounded by a mosaic of intricate patterns, each hue dancing in harmony, turning your daily routine into a moment of escapism.
But the artistry doesn't end with the tiles. Fixtures step into the spotlight, donning audacious colors. A basin tinted in forest green, or a bathtub in luxurious burgundy, serves as both functional pieces and statement decor.
This 2024 bathroom trend is about audacity and elegance in equal measure. It's not just about bathing; it's about experiencing art and indulgence simultaneously. And in this year's design narrative, the bathroom isn't a mere space — it's an ode to creativity and luxury.
6. Spa-Inspired Bathroom
The moment you step into this bathroom, you're transported to a luxurious spa, away from the bustling world outside. Muted earth tones and gentle pastels wrap around you, instantly easing the mind and setting the tone for relaxation.
The beauty of nature is mirrored through natural stone finishes. Be it the textured walls that remind you of rugged cliffs or the sleek flooring evoking calm shores, the organic charm is palpable. Beyond just looking good, these elements offer a comforting touch, enhancing the overall calming experience.
And what's luxury without some modern touches? Imagine showers that replicate the gentle drizzle of a rainforest or bathtubs carved to look like they've been sourced from nature's heart.
The 2024 bathroom trend speaks to our deeper need for relaxation and self-care. Every detail, every choice, is geared towards turning mundane routines into serene rituals. In this bathroom, it's not just about the aesthetics; it's about crafting a daily retreat where design and relaxation walk hand in hand.
7. Bold Kitchen
The kitchen of 2024 isn't just a place to whip up meals; it's an audacious declaration of personal style. Far from the traditional hues, this trend plunges fearlessly into a world of dramatic and striking colors.
Where else would you find cabinetry drenched in the deep allure of sapphire, or counters tinged with spirited reds? Sunny yellows pop, bringing a dash of cheer to every culinary endeavor. Each shade sest the mood and echo feelings. While blues whisper relaxation and elegance, reds shout zest and zeal, and the yellows promise hope and happiness.
Yet, it's not color chaos. The chosen shades are carefully balanced with the kitchen's architecture, its lighting, and even the fixtures. The result? A space that's colorful yet cohesive, bold.
With this 2024 kitchen trend it's clear that design meets emotion head-on. It's not just a room; it's an experience, a place where cooking becomes a joyful dance amidst a backdrop of vivid hues.
8. Tech-Infused Kitchen
2024 kitchens are no longer just about cooking; they're about seamlessly blending style with the latest tech marvels. Ever thought of a fridge that not only keeps your food fresh but also recommends what to cook next? Or how about an oven that knows just how you like your roast, ensuring it's perfect every time?
The beauty doesn't stop with these smart gadgets. The design intricacies of the kitchen embrace this technological shift. Countertops aren't just countertops; they're touch-controlled hubs. Lighting isn't static; it's adjustable, ready to set the perfect ambiance or give you the best visibility for chopping.
But don't mistake this tech dominance for a lack of style. Every appliance, every technological marvel is housed in a design that's sleek and contemporary. It's the kitchen of the future: where form meets function in the most delightful way, representing the epitome of 2024's design innovation.
9. Vivid Entryway
The first impression is often the lasting one, and with this entryway trend, it's bound to be unforgettable. As soon as you set foot in, the walls drenched in bold colors like lush emerald or sultry crimson pull you in, setting a mood that whispers of the design wonders inside.
But it's not just the colors that are grabbing attention. The magic is in the lighting. Artfully placed fixtures don't merely light up the space; they craft an ambiance. Whether it's a stunning chandelier dripping with elegance, ambient sconces that cast gentle shadows, or even a statement floor lamp that's just begging to be talked about, the lighting game here is strong.
And of course, it wouldn't be complete without those finishing touches. A gorgeous mirror, reflecting the ambiance, or maybe a stylish table showcasing some art pieces. Perhaps even some decorative vases that hint at the homeowner's flair for design. This isn't just any entryway; it's a stylish overture to your home, perfectly in tune with 2024's design melodies.
10. Neutral Textured Entryway
Instead of loud colors or flashy designs, this trend whispers elegance in the simplest ways. The palette? Think calm, neutral shades that instantly set a peaceful mood. But the magic here lies in the details, especially the textures. The touch of hand-woven rugs under your feet, the artistry in carved wooden pieces, and the allure of every carefully chosen decor, it all sings sophistication.
The walls? They're not just mere partitions. Through textures like fabric wall hangings, unique paint finishes, or even natural materials like bamboo or stone, they're transformed into masterpieces themselves.
And it's not just about what's on the walls. Elements like woven baskets, chic throw pillows, or even artful glass pieces carefully placed, bring that added layer of charm. The key is subtlety, striking that perfect balance to ensure the space feels cozy yet interesting.
This entryway trend teaches us that there's luxury in simplicity. It's not just about seeing; it's about feeling the warmth and calm it exudes. Dive into this trend and make your entrance a soothing prelude to the rest of your home.
2024 Room Trends
Heading into 2024, each room tells its own story of innovative design and new ideas. Thanks to AI's tips, the latest interior design trends are changing up our homes and how we feel in them.
Here are some other articles you might like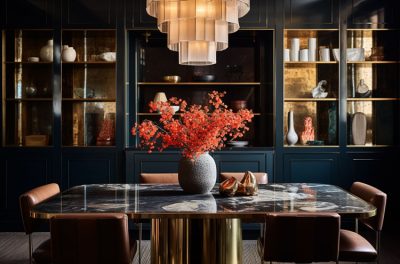 The Trendiest Room Designs in 2024 – According to AI
Tuesday, 22 August 2023
Each year brings new interior design trends that change the way we style our homes. As... Read More