10 Original Bathrooms Created With Our Bathroom Planner
Bathrooms, once overlooked, are now regarded as personal sanctuaries and refuges. With Superdwell's innovative bathroom planner, creating an oasis of relaxation that reflects your style is easier than ever. As an advanced bathroom design tool, our platform makes designing your dream bathroom not only achievable but enjoyable.
1. The Allure of Our Bathroom Planner
2. The Power of Personalization
3. 10 Original Bathroom Designs
The Allure of Our Bathroom Planner
In this article, we'll take you on a tour through ten of the most breathtaking bathrooms created using our bathroom planner. From modern minimalism to rustic chic, each one represents a different interior design style and the range of possibilities our design tool can offer. Along the way, we'll share bathroom ideas and bathroom trends that you can use to inspire your own project.
The Power of Personalization
Harness the power of AI technology with Superdwell, your optimal solution for creating personalized and effortless bathroom designs. As you interact with our innovative design tool, it adapts to your style preferences, aiding you in crafting a bathroom space that embodies your unique aesthetic. This highly personalized approach ensures that your bathroom caters to your functional requirements while reflecting your personal style. Embrace the revolution of bathroom planning with Superdwell, and transform your everyday routines into extraordinary experiences.
Whether you're setting up a new space or considering a bathroom makeover, Superdwell's bathroom planner presents a plethora of latest bathroom trends.
Let's delve into ten distinctive bathroom designs crafted using our innovative tool. Each of these designs illuminates the transformative power of Superdwell's design tool, bringing your bathroom ideas to life with a dash of creativity and functionality.
10 Original Bathroom Designs
1. Minimalist Elegance
Submerge yourself into the serene atmosphere of a minimalist bathroom design, masterfully orchestrated by Superdwell's bathroom planner. Hallmarked by its sharp lines and muted color palette, this space presents a sanctuary of serenity and organization. This meticulously arranged design fosters a state of tranquility, perfect for unwinding from the high-paced rhythm of daily life. Every piece within this minimalist bathroom is thoughtfully chosen and positioned, allowing the room's aesthetics to shine without unnecessary distractions. Immerse yourself in this calming, clutter-free oasis, where simplicity reigns supreme and peace permeates every corner.
2. Rustic Retreat
Embrace the comforting embrace of a rustic-inspired bathroom design. Masterfully brought to life by Superdwell's bathroom planner, this space skillfully melds natural elements with warm color palettes, curating an atmosphere that's both inviting and soothing. The design magnifies the unrefined charm of nature, providing a personal sanctuary of calm and tranquility. The blend of rugged textures and soft hues encapsulates a sense of coziness, making every moment spent in this bathroom feel like a retreat into a serene, woodland cabin. This is more than just a bathroom; it's an intimate gateway to rustic serenity, tailored meticulously within the confines of your own home.
3. Industrial Edge
Indulge in the striking appeal of an industrial-style bathroom, a distinct creation by Superdwell. This design masterfully displays an intriguing combination of exposed brick and metal accents, effortlessly complimented by a tasteful color palette of whites and various shades of grey. With its raw textures and bold elements, this bathroom exudes a sense of character and strength, serving as a stylish sanctuary of modern edge within your home.
4. Modern Luxe
Step into a realm of elegant opulence with a modern luxury bathroom designed by Superdwell. This design blends the glossy allure of high-end finishes with the powerful impact of bold geometric forms to create an environment of refined sophistication. Clean lines, sumptuous textures, and state-of-the-art fixtures come together in a harmonious interplay, exuding an air of contemporary elegance. This bathroom exemplifies an upscale aesthetic that is not only visually impressive but also exudes an undeniable aura of luxury, making it the perfect retreat to unwind in utmost comfort.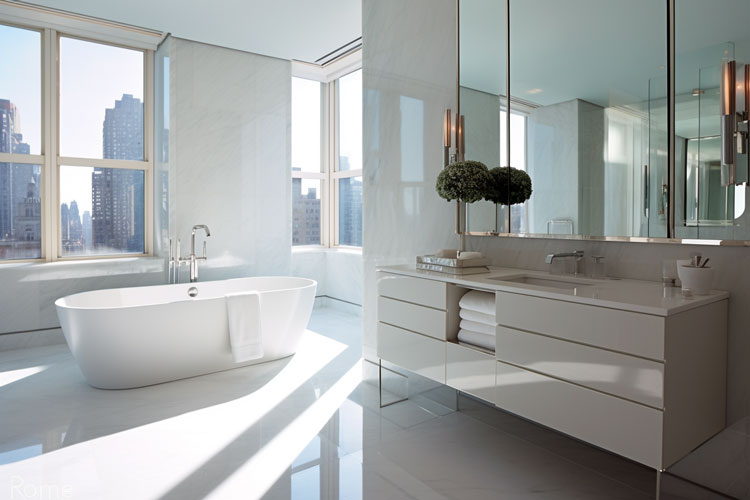 5. Bohemian Oasis
Delve into the vibrant world of bohemian design with a bathroom that embodies a spirit of creativity and spontaneity. This bathroom, curated by Superdwell, showcases an eclectic mix of textures, colors, and patterns, each contributing to a rich tapestry of visual intrigue. The fusion of diverse elements stimulates a free-spirited ambiance, brimming with cultural influences and artistic expression. Vintage pieces, handcrafted details, and a mix of bold and muted hues collectively evoke a sense of adventure and individuality. The bohemian bathroom is more than just a functional space; it's a personal haven that reflects the diversity and depth of your unique aesthetic journey.
6. Coastal Escape
Venture into a world of serenity with a coastal-themed bathroom that encapsulates the soothing allure of the seaside. Crafted with Superdwell's design planner, this space becomes a personal retreat, imbuing everyday rituals with a sense of calm and rejuvenation. Soft blues reminiscent of the sea, sandy tones reflective of sun-kissed beaches, and natural textures infuse the room with an undeniable connection to the outdoors. Elements such as weathered wood, wicker accents, and nautical decor contribute to the relaxed, beachy vibe. This coastal-themed bathroom serves as a daily reminder of the peacefulness of the beach, a sanctuary where you can escape, even if just for a moment.
7. Classic Tradition
Indulge in the enduring elegance of a classic-style bathroom, expertly designed using Superdwell's design service. This design pays homage to timeless aesthetics, highlighting traditional fixtures paired with rich wood tones that exude an air of luxury and sophistication. The meticulous attention to detail, from the ornate faucets to the intricate tile patterns, illustrates a reverence for craftsmanship that has stood the test of time. Complementing the grand fixtures, soft lighting creates an atmosphere of warmth and tranquility, making the bathroom not just a functional space, but a luxurious escape. Embrace the allure of a classic-style bathroom and let the sense of grandeur inspire your daily routine.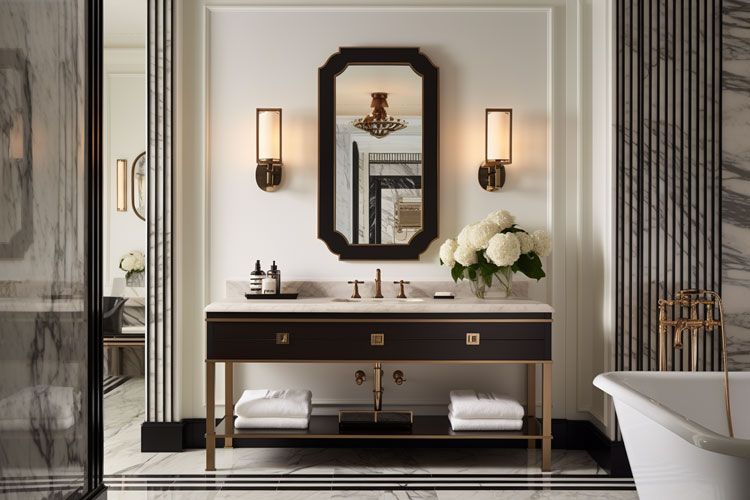 8. Scandinavian Simplicity
Immerse yourself in the harmony of practicality and visual appeal within a Scandinavian-style bathroom, brought to life with Superdwell's design tool. Noted for its simplicity and minimalism, the Scandinavian style serves as an epitome of a space where form follows function. The design centers around clean lines, muted color palettes, and a distinct absence of clutter, showcasing the beauty of simplicity. A touch of nature, such as indoor plants or natural wood elements, brings an organic warmth to the space, breaking the monotony of the minimalist aesthetic. Essential fixtures are thoughtfully incorporated, making each element purposeful and contributing to an overall sense of tranquility. Revel in the balance of a Scandinavian-style bathroom, where minimalism meets functionality in a sublime embrace.
9. Mid Century Modern Elegance
Delve into the world of Mid Century Modern elegance with a bathroom that masterfully marries practicality with aesthetics. The design captures a nostalgic charm by artfully incorporating vintage-inspired fixtures and finishes. The resulting design exhibits a remarkable synergy of clean lines, organic shapes, and a thoughtful blend of traditional and unconventional materials. It's an appealing retreat for those drawn to the enduring allure of a retro-inspired yet timeless bathroom design.
10. Tropical Maximalist Extravaganza
Get inspired by this bathroom transformed into an exciting Tropical Maximalist escape. This design dares to impress with its vibrant color palettes, eclectic fusion of exotic patterns, and an abundant display of lush, tropical plants. Serving as a perfect example, this bathroom showcases how a maximalist space can be audacious and visually stimulating, while maintaining an expert level of tasteful execution. Step into this tropical oasis and experience the thrill of maximalist design done right.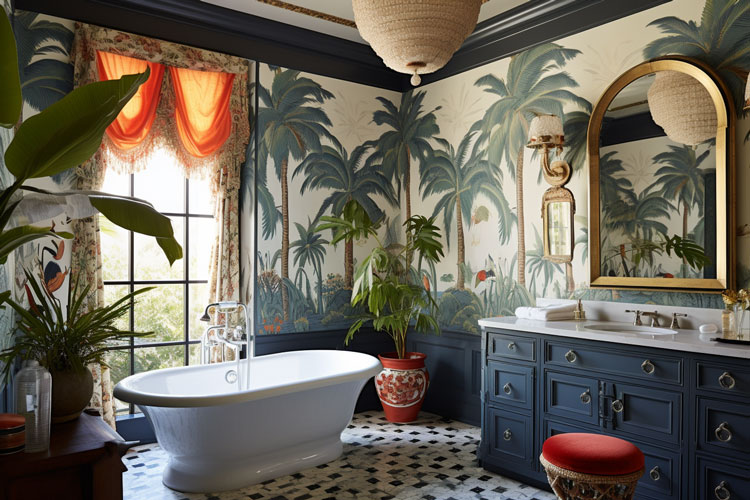 The future of bathroom design is at your fingertips. Our bathroom design tool transforms your dream bathroom from a concept into reality, providing a personalized sanctuary that mirrors your aesthetic and meets your functional needs.
Discover the limitless potential of the Superdwell bathroom planner, your gateway to an array of styles, trends, and inspiring bathroom ideas. Let it be your compass as you navigate your unique design journey, shaping a space that beautifully encapsulates your individual style and practical requirements.
Stay connected with us as we continue to explore a myriad of styles and trends, each masterfully crafted with Superdwell's bathroom planner. It's more than just a design tool – it's your personal guide to creating a bathroom that truly reflects you. Embark on your design journey with Superdwell today, and let us help you bring your bathroom vision to life.
Here are some other articles you might like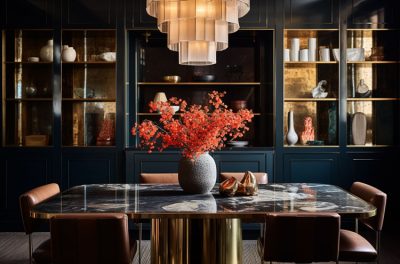 The Trendiest Room Designs in 2024 – According to AI
Tuesday, 22 August 2023
Each year brings new interior design trends that change the way we style our homes. As... Read More