10 Great Projects Made with Superdwell's House Design
Superdwell's innovative house design platform revolutionizes the way homeowners approach interior design and home planning. With cutting-edge tools and expert guidance from skilled home designers, users can unleash their creativity and bring their dream spaces to life. In this article, we'll explore 10 outstanding projects made with Superdwell's home design online service and planner, showcasing the versatility and brilliance of this platform. From stylish contemporary homes to cozy farmhouse retreats, get ready to be inspired by the boundless possibilities of house design online.
10 spectacular projects made with Superdwell's online home designer:
4. Serene Scandinavian Retreat
6. Coastal Chic
10. Bohemian Bliss
1. Contemporary Elegance
Indulge in the unparalleled essence of sophistication and embrace the epitome of modern living with this breathtaking contemporary home design. Every element has been thoughtfully considered, from the sleek lines that exude minimalist elegance to the luxurious high-end finishes that add opulence to every space. Carefully curated decor enhances the ambiance, creating an urban oasis that is a true reflection of the homeowner's refined taste. Step into a world where luxury and comfort coalesce, and where every detail has been meticulously designed to create a harmonious and visually stunning living environment.
2. Cozy Farmhouse Chic
Step into a world of rustic charm and warm coziness with this farmhouse-inspired project. Superdwell's innovative home planner seamlessly integrated timeless farmhouse elements with a modern twist, culminating in a space that exudes harmony and invites you with open arms. From the inviting weathered wood accents to the charming vintage-inspired furnishings, every detail has been thoughtfully curated to create an ambiance of comfort and elegance. Step inside and experience the timeless appeal of farmhouse style, where old-world charm and contemporary flair converge to craft a truly welcoming and visually stunning environment.
3. Shabby Chic Elegance
Step into a realm of romantic distressed elegance, where vintage charm meets modern sophistication in a harmonious dance. Superdwell's expert house planner skillfully curates a space that captures the essence of shabby chic, blending soft pastels, weathered furniture, and delicate floral patterns to create a sanctuary that feels warm, inviting, and steeped in nostalgia. The interplay of rustic elements and refined aesthetics results in a space that exudes timeless beauty and comfort, drawing you into a world of elegant nostalgia. Whether you wish to create a cozy cottage-inspired retreat or a sophisticated vintage haven, Superdwell's expert interior designers will help you achieve a shabby chic space that resonates with your unique style.
4. Serene Scandinavian Retreat
Explore the serene beauty of Scandinavian design with this enchanting and peaceful retreat. Superdwell's home designer showcases their expertise in this captivating space, masterfully blending clean lines, natural materials, and a harmonious palette of muted tones. The result is a sanctuary that effortlessly exudes tranquility and comfort, inviting you to unwind and find solace amidst the chaos of everyday life. Immerse yourself in the simplicity and elegance of Scandinavian aesthetics, where every element is thoughtfully curated to create a sense of harmony and balance. Let the timeless allure of this design style embrace you, offering a haven of relaxation and rejuvenation within the comforts of your own home.
5. Modern Eclectic Haven
Step into the exciting and eclectic world of design, where diverse styles coalesce seamlessly in a harmonious dance of creativity. Superdwell's exceptional talent shines through in this captivating project, skillfully blending an array of design elements to craft a home that is nothing short of extraordinary. With an adventurous spirit, this space exudes vibrancy, uniqueness, and a distinct personality that reflects the homeowner's bold taste and individuality. The artful combination of contrasting styles and unexpected pairings creates an atmosphere that is rich in character and charm, inviting you to immerse yourself in a truly one-of-a-kind experience. Embrace the power of eclecticism and celebrate the freedom of expressing your distinct vision through the medium of design. Let Superdwell be your guiding force in crafting a home that reflects the diverse facets of your personality and fulfills your design aspirations with unwavering brilliance.
6. Coastal Chic
Indulge in the epitome of coastal living with this chic and enchanting beachside retreat. Superdwell's exceptional house design online service has masterfully captured the essence of coastal charm, curating a space that emanates a sense of seaside serenity and elegance. The expert use of light colors evokes the calming allure of ocean hues, while the incorporation of natural textures brings the outdoors inside, creating an atmosphere that feels both refreshing and comforting. Beach-inspired accents and carefully selected decor add the perfect finishing touches, further accentuating the coastal theme and immersing you in a world of laid-back luxury. Embrace the beauty of coastal living and relish every moment in this captivating and inviting space, designed to whisk you away to your very own beachfront paradise.
7. Transitional Elegance
Immerse yourself in the timeless allure of classic elegance with this gracefully designed home, brought to life by the expertise of Superdwell's exceptional home planner. Balancing the essence of traditional design with contemporary influences, this space exudes a captivating and sophisticated ambiance that stands the test of time. The careful preservation of classic elements ensures a sense of familiarity and comfort, while the addition of modern touches adds a fresh and innovative edge to the overall design. Experience the seamless harmony of past and present as you wander through the meticulously curated rooms, each boasting a blend of refined grace and contemporary finesse. This remarkable juxtaposition creates an enchanting and inviting atmosphere, making it the perfect place to savor timeless elegance with a modern twist.
8. Minimalist Paradise
Indulge in the art of minimalist living with this serene and clutter-free space, thoughtfully crafted by Superdwell's exceptional house planner. Embodying the very essence of minimalism, this oasis exudes a calming aura and invites you to experience the beauty of simplicity. Each carefully chosen element in this well-curated space serves a purpose and contributes to the overall sense of harmony. Embracing clean lines, uncluttered surfaces, and a curated selection of essential pieces, this minimalist haven offers a tranquil retreat from the distractions of modern life. Discover the joy of living with intention and the freedom that comes with letting go of excess, as you immerse yourself in the peaceful ambiance of this minimalist masterpiece.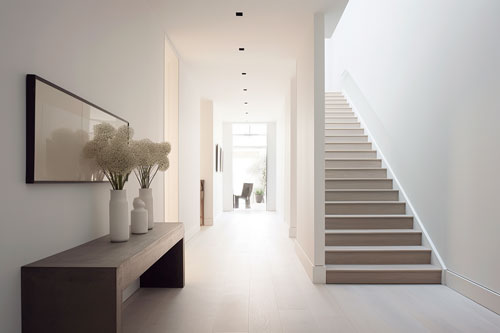 9. Captivating Brutalism
Immerse yourself in the bold beauty of brutalism, a design style that fearlessly embraces the raw and rugged elements, blending them with urban sophistication. Superdwell's expert home designers excel at creating captivating spaces that celebrate the unpolished charm of brutalism. The juxtaposition of exposed concrete, industrial metals, and minimalist lines creates a sculptural ambiance that makes a powerful statement. With Superdwell's interior design service, the rawness of brutalism is carefully curated to harmonize with refined accents, resulting in a captivating space that exudes both strength and elegance. Our talented designers have mastered the art of balancing the industrial and the polished, creating a truly mesmerizing environment that captivates the senses.
10. Bohemian Bliss
Delve into the captivating world of bohemian design, where creativity knows no boundaries, and artistic expression takes center stage. Superdwell's exceptional prowess in embracing the unconventional and celebrating individuality shines brightly in this vibrant and eclectic project. Unleash your inner free spirit as you immerse yourself in a space adorned with bold colors, eclectic patterns, and an array of global-inspired decor. Embrace the spirit of adventure and self-expression with a bohemian sanctuary that is uniquely personalized, reflecting your passions and interests. Step into a world of artistry and nonconformity, where each element tells a story and celebrates the beauty of life's diverse experiences.
Superdwell's revolutionary home design and planner platform have transformed the landscape of interior design and home planning. These 10 remarkable projects exemplify the boundless possibilities and creative potential that this innovative tool offers. From contemporary elegance to farmhouse charm and bohemian bliss, Superdwell provides the perfect canvas to curate spaces that authentically reflect your unique style and personality. Embrace the future of house design online and unleash the power to shape your dream home effortlessly. Join the Superdwell community and embark on an exciting journey of creating a space that truly embodies your vision and aspirations.
Here are some other articles you might like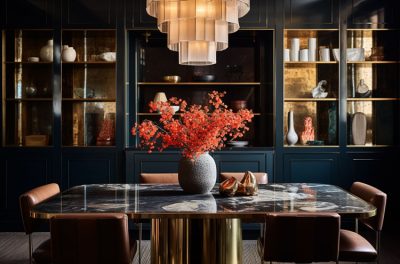 The Trendiest Room Designs in 2024 – According to AI
Tuesday, 22 August 2023
Each year brings new interior design trends that change the way we style our homes. As... Read More